27th October – Vinted, Europe's largest online C2C marketplace for second-hand fashion, has acquired Peak's portfolio company United Wardrobe, the largest second-hand fashion platform in the Netherlands.
Combined, Vinted and United Wardrobe have a member base of 34 million buyers and sellers across 11 countries in Europe. Together, they will continue their mission of making second-hand clothing the new norm – and the fashion industry more sustainable as a result.
United Wardrobe, launched in 2014, rapidly became the market leader in second-hand clothing in the Netherlands. With an investment led by Peak in 2017, United Wardrobe further established its market leadership in the Netherlands; The team expanded into Belgium and France. The strong growth and dominant position in the Netherlands caught the attention of Vinted. As Lithuania's first unicorn, Vinted eyed a strategic acquisition to further establish their European leadership.
Impressive work by first-time entrepreneurs
The founders of United Wardrobe, Sjuul Berden, Thijs Slijkhuis and Thijs Verheul launched United Wardrobe out of university after Berden saw his younger sisters struggle with overflowing wardrobes. Within 3 years they established a strong foothold within the Netherlands; which to date marks more than 4 million users. In 2017, they raised EUR 1 million from Peak and angel investors to further expand into Europe and make second-hand fashion the norm. Following the acquisition, the founders will step into leadership positions at Vinted. "Scaling a company at such a fast pace is incredibly impressive," says Johan van Mil, Co-founder and Managing Partner at Peak.
"We are proud of how the founders and their team were able to grow the company, build an extremely loyal user base, and make a large impact on the sustainability of fashion. We are very excited to see that Vinted recognized the value the team has built over the years." (van Mil)
Making second-hand fashion a worldwide norm
Both Vinted and United Wardrobe are on a mission to make fashion more sustainable by advancing the market for second-hand fashion. With the merger, the combined communities will benefit from increased supply and demand. "It's always been our goal to connect our buyers and sellers on one central European marketplace," says Sjuul Berden, United Wardrobe founder and CEO.
"As of today, United Wardrobe's users will be able to transact with the international community of Vinted. It was a fantastic experience to bring United Wardrobe independently to this point with our investors, and now we will continue on a fantastic ride with Vinted to expand on their leading European position." (Berden)
A dominant European player with worldwide ambitions
With the acquisition, Vinted will have a combined user base of 34 million buyers and sellers across 11 countries in Europe. Besides further growth in the continent, Vinted is also looking outside Europe. "We know both teams have the ambition to roll-out on a worldwide basis. We are confident in their combined ability to make second-hand fashion the number one choice around the globe", says Johan van Mil.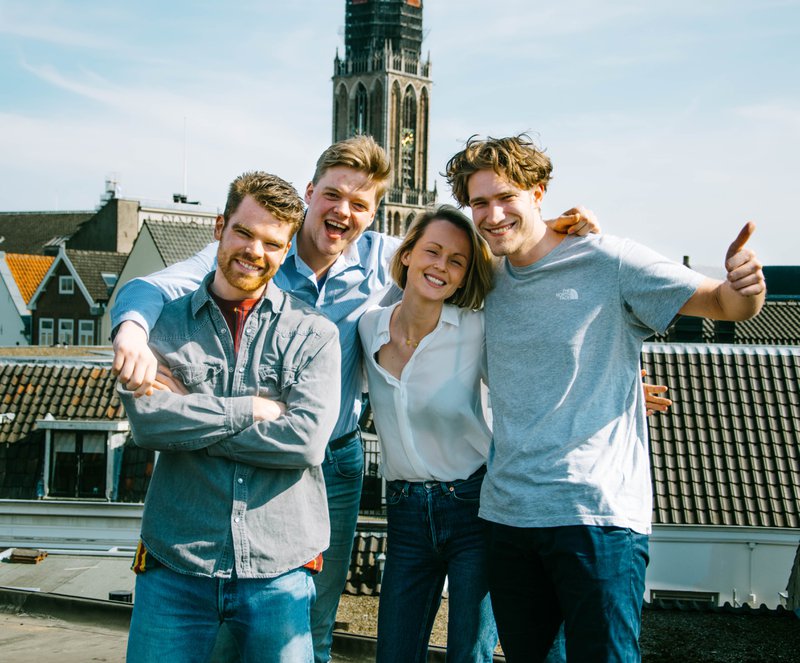 ---
About United Wardrobe
United Wardrobe is the number one marketplace for buying and selling secondhand fashion in the Netherlands. The company was founded in 2014 by CEO Sjuul Berden, after he saw his three younger sisters struggle with overflowing wardrobes. Together with Thijs Verheul & Thijs Slijkhuis, Berden dropped out of university to set out on a mission to make secondhand the norm. By focusing on fashionable content, a social experience, and making buying and selling frictionless, the company rapidly grew to over 4 million registered users in 5 years. United Wardrobe is backed by several angel investors and early-stage venture capital firm Peak. The company is currently led by Sjuul Berden (CEO), Maud Behaghel (COO) and Thijs Slijkhuis (CTO), and headquartered in Utrecht, the Netherlands.
---
About Vinted
Vinted is the largest online international C2C marketplace in Europe dedicated to second-hand fashion, with a growing member base of 30 million users spanning 12 markets: France, Germany, Belgium, Spain, the Netherlands, Austria, Poland, Czech Republic, Lithuania, Luxembourg, UK, and the USA. Vinted was founded in 2008 in Lithuania by Milda Mitkute and Justas Janauskas, and joined by first investor and COO Mantas Mikuckas in 2011. The company is now led by CEO Thomas Plantenga and backed by five leading venture capital firms: Lightspeed Venture Partners, Accel, Insight Venture Partners, Burda Principal Investments, and Sprints Capital.
On a mission to make second-hand the first choice worldwide, Vinted helps members sell and buy second-hand clothes and accessories from each other, making shopping a mobile and social experience through one-on-one member interactions in its community. The European start-up is headquartered in Vilnius and has offices in Berlin and Prague with more than 500 employees.